In this tutorial, the process to restore corrupt Exchange 2003 database from backup without downtime is explained. It also explains why it is a good plan to collaborate dial-tone database and Recovery Storage Group when restoring backup for any corrupt mailbox store.
Table of Content
If a large sized Exchange database is corrupt, then restoring from backup depends upon number of factors like network speed, hardware, the backup restoration application used etc. Meanwhile this happens, a DBA has to handle annoyed users and most probably the corporate executive head.
So, basically the target is to recover Exchange mailboxes while the work-flow stays unaffected. For this to happen, the idea is to create a dial-tone database that will help to maintain the messaging service while the old messages and DB can be accessed through OST file (Discussed in later part).
Exchange Dial-Tone Recovery means when the backup is restored, email send-receive process will remain active through an empty mailbox store. Although dial-tone restore technique has been introduced in older versions of Exchange Server but has become more effective in edition 2003 because of Recovery Storage Group.
First of all–dismount the mailbox store that has to be restored from backup. For this, take help of Exchange System Manager. Click on the respective mailbox store, right click on it, and chose the option "Dismount Store".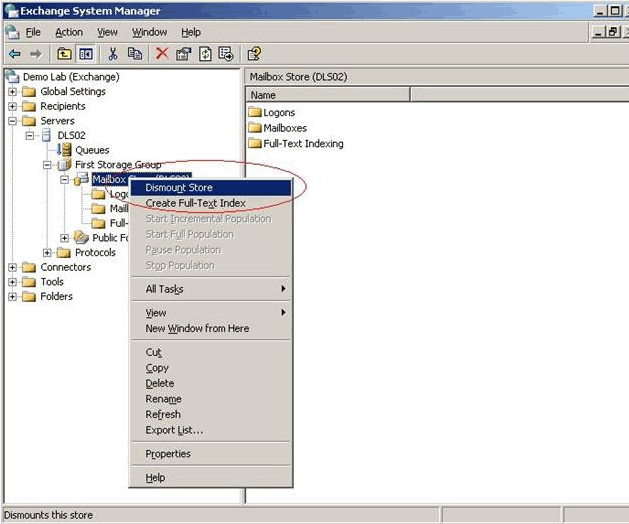 Now, for creating the dial-tone database, move mailbox store 2003 files (.edb and .stm) from their default location to different location on Server.
It is strictly recommended not to delete the database files but move them to different location (if possible on same logical drive) as these files might be needed at some point of recovery. Also, copy transaction logs as they will surely be needed after backup restoration to RSG to bring database to clean shutdown state through soft recovery (which is a process of log file replay).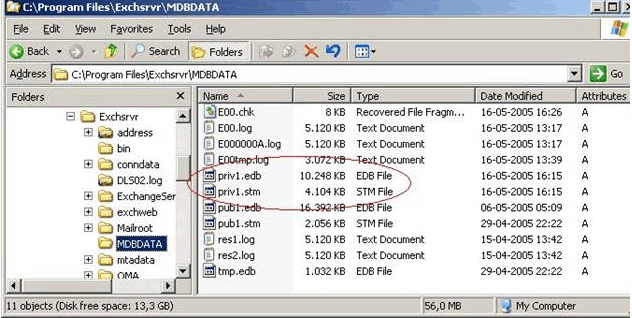 Open Exchange System Manager and then right-click on dismount mailbox store and chose the option "Mailbox Store"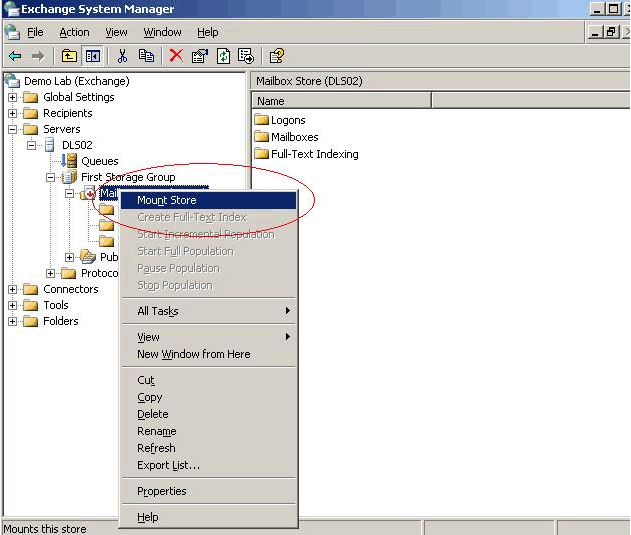 Soon after this, a message will be prompted on screen. This is because the database files are moved from their original location. Click YES.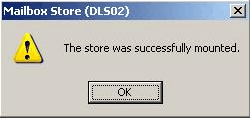 Once the dial–tone database is created, it is very important that all users are informed about it as the mailboxes will be empty. The information can be passed through e–mail.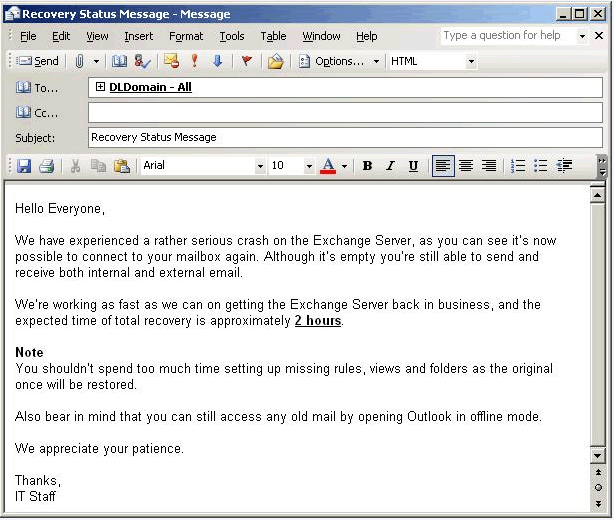 Now, if Outlook 2003 is configured with Exchange Server enabled with Cached Mode option, then if anyone would try to login, they would find following message on screen:

Here, there are two options to choose from:
Connect: This will connect the user to empty mailbox (dial tone database) which means all rules, signatures etc. will be lost while there will be access to Global Address List so that email send–receive process goes on smoothly.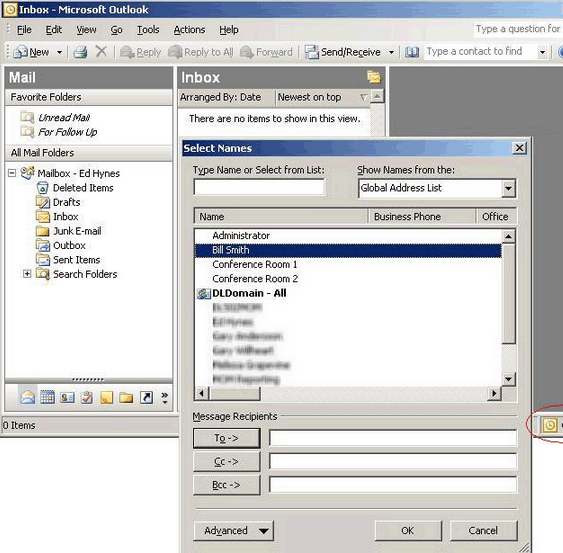 Work Offline: This will allows accessing emails and other data saved in OST file that is being synchronized with Exchange Server before crash.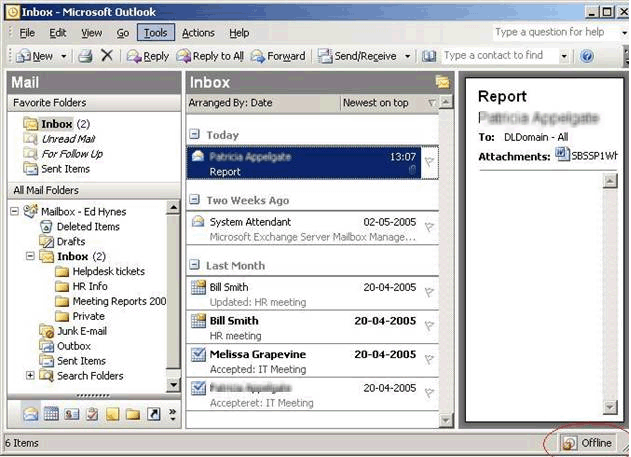 In this step, we will restore Exchange 2003 backup to Recovery Storage Group (RSG). Before that, we will first create a special storage group called (RSG) which can be done through Exchange System Manager. Open it and click on the Server object, choose New and then Recovery Storage Group.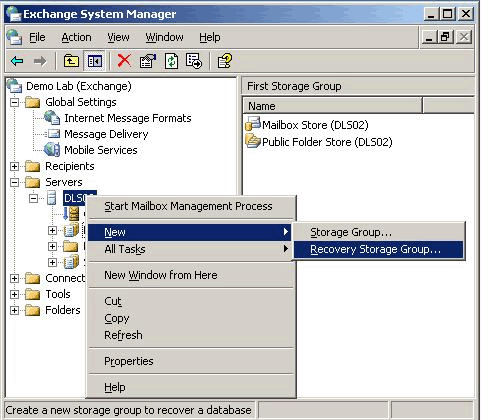 Now specify the location where the restore mailbox data has to be stored, i.e. define a location where RSG has to be created (If possible, choose the same drive where the dial-tone database is created). Click OK.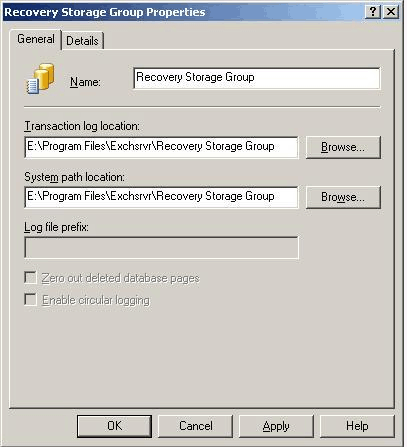 Now when the Recovery Storage Group is created, the backup data has to be restored to it. Open ESM and right click the RSG created in the previous step. Chose the option "Add database to recover" and a dialog box will appear on screen. Here, highlight the mailbox store whose mailbox has to be restored and hit OK.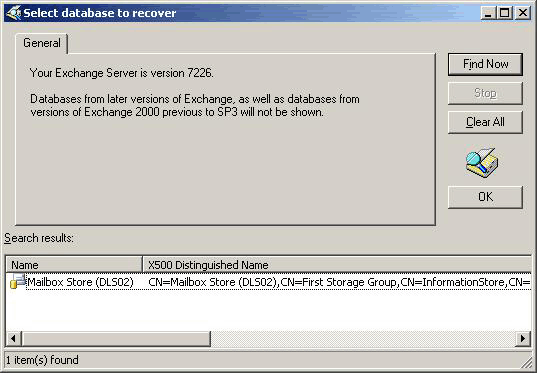 In the Mailbox Store Properties dialog box, enter the name of mailbox that has to be restored in text box under "General" tab.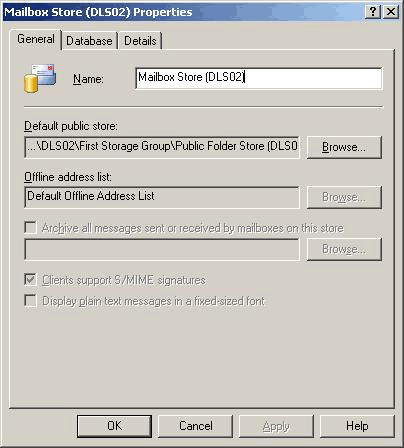 Click on "Database" tab and enable the check box for "This database can be overwritten by a restore".
Meanwhile, ensure that location of RSG is added according to your requirement.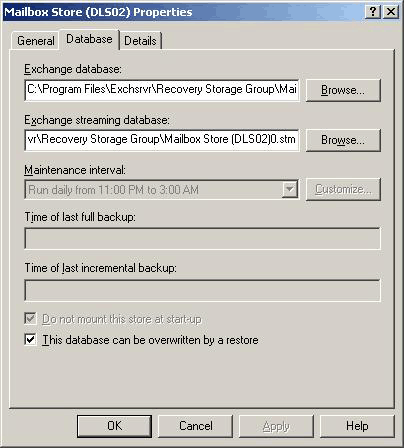 Now, we will restore Exchange 2003 backup. You can use any third party backup restore utility, here we are using NTBackup Tool.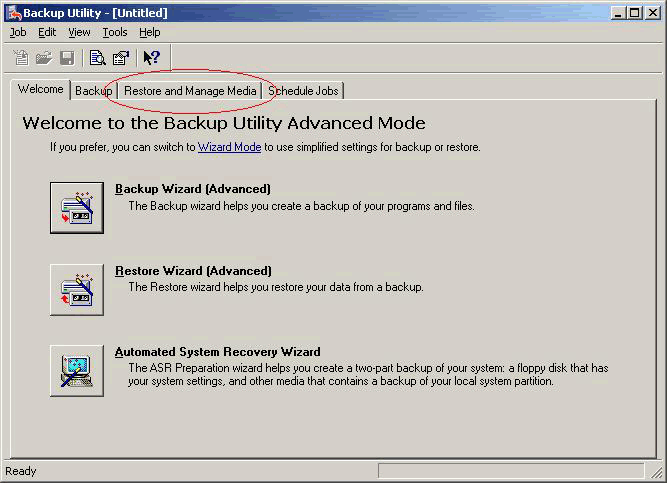 Expand "File" and then click Information Store.bkf. Now navigate to the Server\Microsoft Information Store\First Storage Group and enable the check boxes for "Mailbox Store" and "Log Files".
Note: You cannot select the Public Store option as RSG is not meant for public store recovery.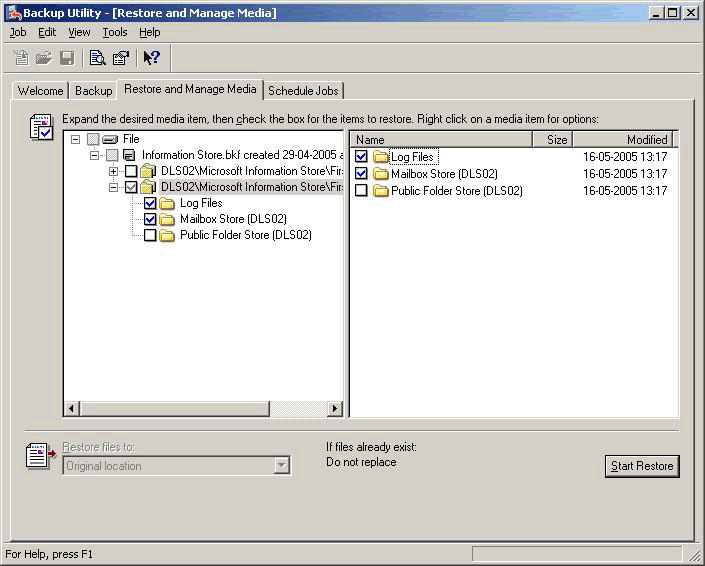 When "Start Restore" button is clicked, you will be asked to specify a location where log and patch file has to be restored. Also, make sure that the check box for "Last Restore Set (Log file replay will start after this restore completes.)" and "Mount Database after Restore" is enabled.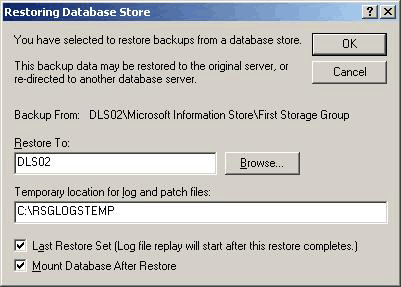 Restoration process will be completed depending upon the size of mailbox store. Once restore is finished, click on "Close" button.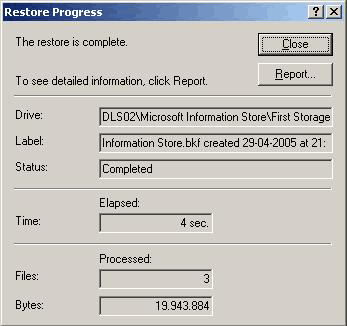 Now open Recovery Storage Group (through ESM) and verify if all mailboxes are successfully restored.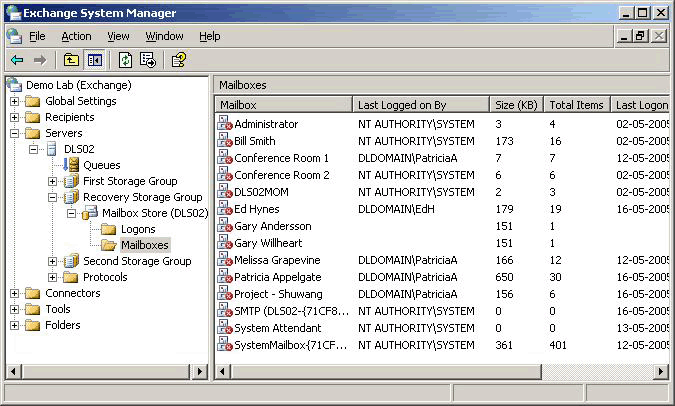 Now dismount the restored database in order to check if it is in consistent state or not. To test state of database, use Eseutil /mh command using following command:

The State of database should be Clean Shutdown.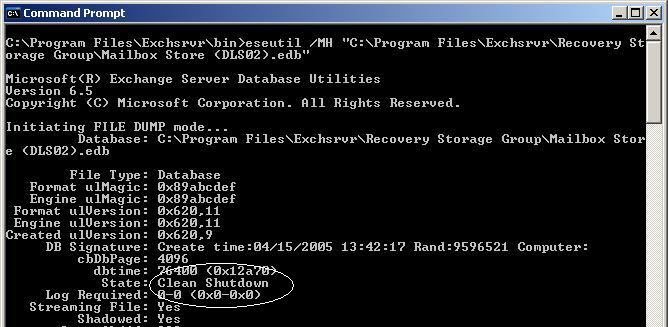 If it is Dirty State, then perform soft recovery against the restored DB. For this, LOG files will be needed.

Now, it's the time to swap the RSG with recovered mailbox store with Dial Tone Database. However, we could directly merge both the databases but this practice has certain disadvantages:
The mailboxes thus created as a result will be larger in size than the original one.
Properties of original mailbox will be lost. If swapping is done, mailbox rules and other properties set in Outlook will remain intact (as it was before crash).
Overall time in merging database will be reduced. Since Dial tone database will be smaller in size, less time will be taken when it will be merged with large sized restored mailbox.
Before starting, it is recommended to dismount both the databases from Server using Exchange System Manager (ESM).
Note: This task of swapping DB can be accomplished by changing the logical paths of databases in System Manager. However, that method is not recommended to be used and thus is not shared in this tutorial.
Meanwhile, if the database file names in RSG and Dial-tone DB are not same, it is recommended to rename them (Ensure that no log files has to replayed against both the database after renaming).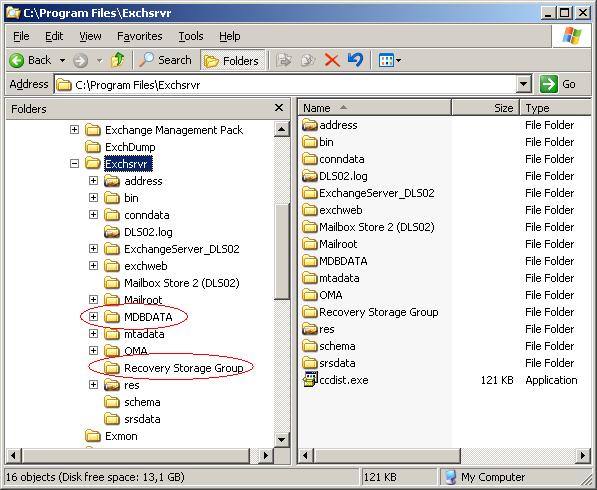 In the folders where database files for RSG and Dial Tone DB are stored, create a folder named "UPDATED".
Move a copy of EDB and STM file from RSG to the UPDATED folder created under Dial–Tone (MDBDATA folder).
Move a copy of STM and EDB file from MDBDATA folder to UPDATED folder created under RSG.
Now, Move the EDB and STM files from UPDATED folder to folders above it (MDBDATA and Recovery Storage Group). A message will pop up on screen if you want to overwrite the file? Click YES. (This happens because you moved the copy of database files)
Open ESM, right click on Mailbox Store, and select Properties. In the Database tab, enable the check box for "This database can be overwritten by a restore". Once this is done, mount both the databases on Server.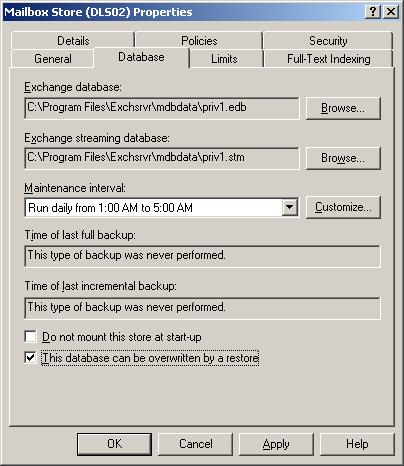 Before launch of Exchange 2003 SP1, the process of merging two databases was accomplished using Exmerge tool. Nevertheless, with release of this edition, this task was simplified through the feature "Recover Mailbox Data" that can be accessed through Exchange System Manager.
Since we have less in Recovery Storage Group Mailboxes after swapping, we will merge mailboxes from it to Dial-Tone mailbox now.
Open System Manager and under RSG folder, move down to mailboxes and then select the mailboxes from right-panel which are supposed to be merged.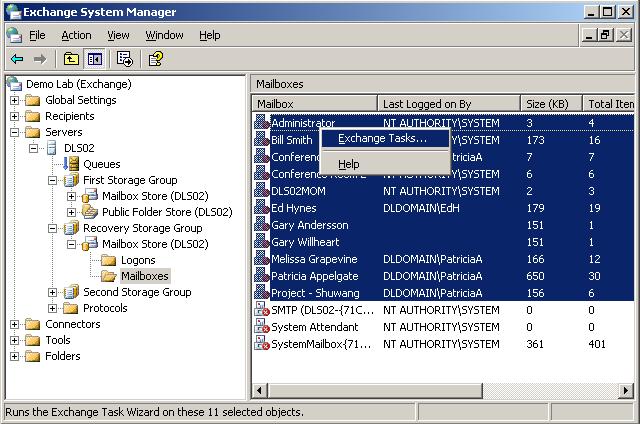 Exchange Task Wizard will pop up on screen. Click "Next" button two times.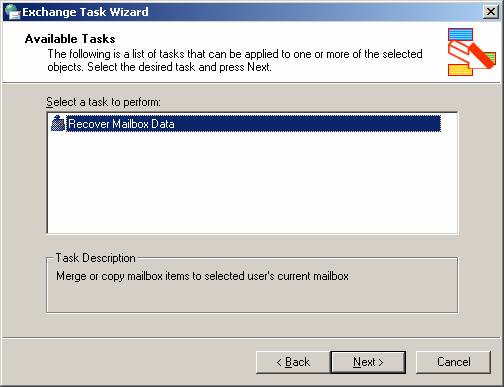 Define the destination mailbox store into which the mailboxes are to be merged.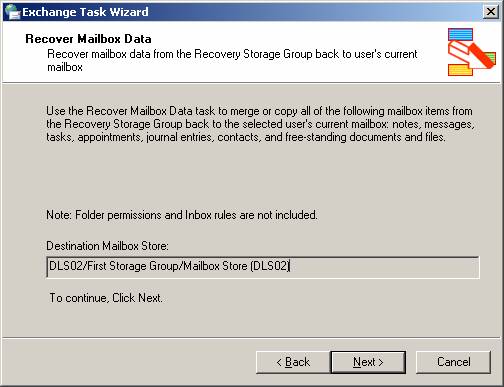 Select the option "Merge Data" option and hit the Next button.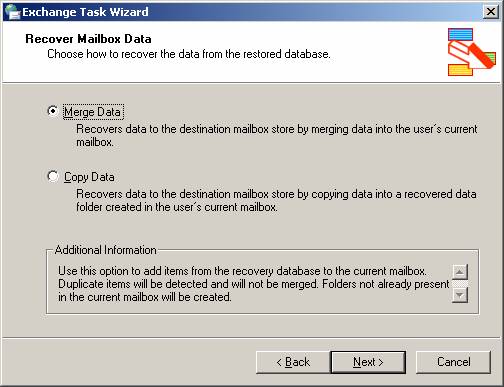 There is option available to schedule the merging process if you do not want to start merging immediately.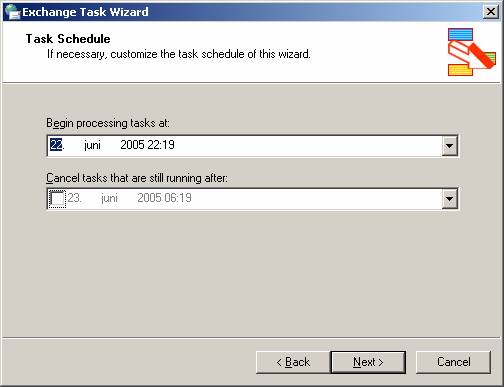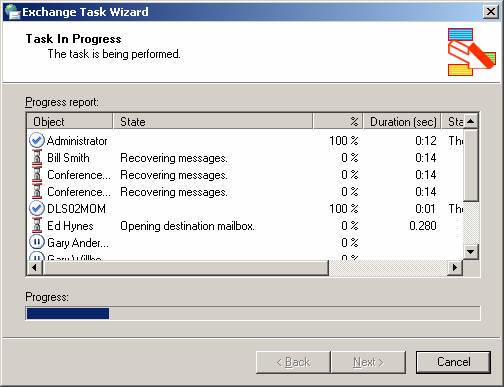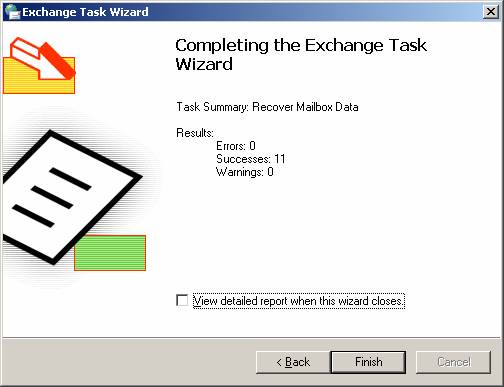 Thus, through the following steps, restoring the mailboxes data from the crash Mailbox Store is completed as well as the messaged can be easily merged which was received while the user was connected to dial-tone database. Hence, it is called to be as Successful Disaster Recovery. As a better and fast alternative user can use Exchange Recovery Tool for their database files